Apple iPhone 6s unboxing
16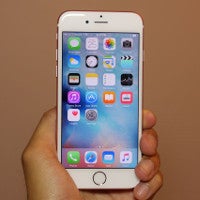 If you didn't jump at the opportunity of getting in with an
iPhone 6s
pre-order when it went live last week, then you're probably the many folks who have to wait until a later date to receive your order. The anticipation is killer as always, especially when it comes to prized gadgets, but we're here to try and quench that desire. The good UPS person just dropped off a special package, so we're just as eager to see what this most powerful iPhone to date has to offer.
A standard practice, the iPhone 6s' packaging doesn't deviate from the norm we've seen in previous years. It's minimalist in appearance, yet there are some subtle changes that gives the packaging a more colorful look. In particular, you have to look at the front, where the outline image of the phone is now accompanied with a wallpaper of sorts. It's nothing major, but regardless, it softens the discreteness of the packaging.
In typical fashion, the first thing our eyes feast on as soon as we remove the front portion of the box is the phone in question – the iPhone 6s. Underneath it, we have all the usual components that we've come to expect. Unchanged no doubt, we're given the usual Apple decals, documentation information, lightning cable, wall charger, and earpods. This, of course, is typical Apple. Straight to the point, minimalist in design.
We know what's new with the iPhone 6s, but we're far more interested in experiencing those new features – and to see whether or not, they're practical in making the experience more meaningful. We'll be testing it out for the next few days, so expect our in-depth review soon!
Apple iPhone 6s unboxing