Apple iPhone 6s explodes after charging
64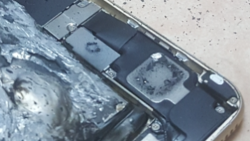 So what is going on with the
Apple iPhone 6s
? Some models are having issues with the battery, which Apple says is
due to the introduction of too much ambient air during the manufacturing process
. As a result, some units hit 30% battery life and immediately shut down as though the battery was at 0%. Plugging the phone into an outlet restarts battery life instantly at 30%. Only certain models are affected says Apple, and
those units will receive a free battery replacement
.
As we told you the other day,
Korean authorities are investigating this so-called #Batterygate issue
due to the fear that it could be a safety concern. And while we have no idea whether there is a connection, one of our loyal readers sent us images tonight of his iPhone 6s after it exploded. Our reader told us that the phone was being charged when he unplugged the charger from the outlet. At that moment, smoke started spewing out of the device followed by the appearance of flames. He then dropped the handset onto the floor.
We have some pictures of the aftermath of the explosion and fire. You can check them out by clicking on the slideshow below. There is no word yet from the phone's owner on whether he plans on getting in touch with Apple, a lawyer, or both. He also didn't mention whether he sustained any injuries from the incident.
Thanks for sending this in!