Apple iPhone 6s and 6s Plus reportedly spotted in data logs, no iPhone 6c in sight
10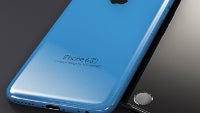 Over the past few months, rumors regarding a successor to 2013's iPhone 5c have been constantly
on
and
off
. Conflicting reports and alleged leaks have been baffling seemingly everyone, but a new report on the matter claims to have the final word on the matter.
Fiksu, a USA-based mobile marketing company, has unearthed traces of two new iPhones in some of it data logs. Said devices are rolling under the "iPhone 8,1" and "iPhone 8,2" code names, and given that last year's iPhone 6 and 6 Plus were known as "iPhone 7,1" and "iPhone 7,2" respectively, it's logical to deduce that the newly-spotted Apple phones are the iPhone 6s and the 6s Plus (which might or might not be called like that, mind you).
Or is it? Well, there's always the chance that an iPhone 6c might be rolling under another code name, given that the iPhone 5c was actually a plastic version of yesteryear's model. In that line of thought, a handset that could be an iPhone 6c could exist under the "iPhone 7,3" alias in said data logs, but there's nothing known about such a device at the moment.
Interestingly enough, Fiksu also claims that the two new devices have been mostly active in the USA, with Germany and Brazil coming in second and third, which basically means that test units of Apple's upcoming crop is most probably making the rounds in said locations.
Of course, this doesn't mean it doesn't exist. Alas, we will have to patiently wait until the rumored September 9 event so as to see whether Tim Cook & Co will put a kibosh on all rumors regarding the iPhone 6c.