Apple iPhone 6 is just 6.1mm thick according to video
26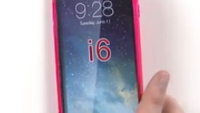 Here's a bit of what you might want to call "new math". Take a pink case allegedly made for the
Apple iPhone 6
. Put an
fifth-generation Apple iPod touch
in the case, and the thickness is a perfect match. That means that we can expect the next iteration of the iPhone to weigh in at a remarkable 6.1mm thin (compared to the current 7.6mm thickness of the
Apple iPhone 5s
). That dovetails with
earlier leaks of thin casings
and
speculation that the next version of the iPhone could be called the Apple iPhone Air
. Of course, with the volume controls matching up perfectly, it also suggests that the Apple iPhone 6 will have some of its design cues borrowed from the
5th generation iPod touch
.
That means we could see a design very similar to the one on
that four second video we showed you during the weekend, with the rounded corners
. Changes will also apparently be coming to the volume button. Why do all of this? Well, for one thing, it freshens up the iPhone's look. Secondly, it gives Apple a particular design to share across its product line thus instantly identifying a particular product as being an Apple.
Another interesting thing to consider is battery life. A super thin device is going to need a super-thin battery. Recently, we passed along a story stating that it will actually be the 5.5 inch iPhone phablet that gets the name the Apple iPhone Air and it will ship with a 6mm thick body. But the product
was being delayed until 2015 because of Apple's inability to find a reliable battery supplier
who could ship large quantities of a 2mm battery (normal size for a smartphone cell is 2.8mm or 2.9mm).
All of this information seems to connect, but not perfectly. What seems to match up is that there will be an iPhone variant with a 6mm or 6.1mm thickness. That model could be the Apple iPhone 6, the Apple iPhone phablet, or both. The design cues for either model, or both, will be coming from the
Apple iPad Air
,
Apple iPad mini with Retina display
, or the fifth-generation Apple iPod touch.
source:
UnboxTherapy
via
AppleInsider