Quick four second video said to show off the Apple iPhone 6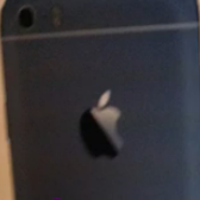 We are reaching into our cupboard this afternoon for as much salt as we can find. A four-second video out of Asia, claims to show off the
Apple iPhone 6
. Obviously, we suggest that you take this with as much salt as your Doctor says that you can have. Looking at the phone (don't blink!),
we see the rounded corners that supposedly will be giving the next-gen iPhone a new look
.
The Apple
iPhone 6
will reportedly employ curved glass. If so, you cannot see it from the video. What you can see is a back that calls to mind the
HTC One
. The front screen includes thinner side bezels and is expected to be 4.7 inches. If you're looking for some kind of connection that could show the legitimacy of the video, the design and size almost
perfectly matches an iPhone 6 mockup
that was displayed at a Hong Kong electronics fair earlier this month. Even more interesting is that
the back resembles a picture said to be that of the iPhone 6, taken by a "Foxconn Insider"
late last month.
To view four seconds of what is supposedly the Apple iPhone 6, click on the video below.
Thanks for the tip, Enam!
source:
YouTube