Apple iPhone 6 Plus vs Samsung Galaxy Note 4 vs Samsung Galaxy Note Edge: specs comparison
83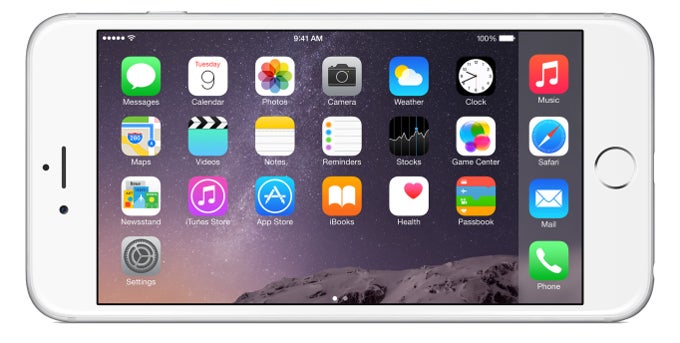 The unthinkable has finally become a reality - Apple answered to its main rivals and unveiled an iPhone behemoth, which sports a 5.5-inch display - the
Apple iPhone 6 Plus
. This directly pits it against some of the larger smartphones Android can throw at it. Apple's arguably biggest rival, Samsung, unveiled its newest additions to the Galaxy Note series of devices just a few days ago, at IFA 2014: the
Galaxy Note 4 powerhouse
and the
innovative Galaxy Note Edge
, which waves "Goodbye!" at the side bezels (well, at least at one of these). These are not on the shelves just yet, but once they are being sold, they'll undoubtedly clash against the Apple iPhone 6 Plus.
We've often dreamt of being able to eliminate the size aspect and compare an iPhone and a Samsung-made device. Thanks to Cupertino's first try at a phone with a large, 5.5-inch display, we're finally able to do so and make an almost perfect comparison between such devices. The
Galaxy Note 4
, with its 5.7" Quad HD display, and its curious
Note Edge
variation, with a 5.6-inch display in tow, are nothing but the fiercest rivals the largest iPhone might ever encounter.
That said, let's not waste any more time and pit the three beasts against one another and see which one's the clear winner in terms of raw hardware power. Well, we'll have to wait for an in-depth comparison, but currently we can compare these rivals at least on paper. Check the specs sheets below and share your thoughts in the comments section.
Super AMOLED
Super AMOLED
IPS LCD
Scratch-resistant glass, Ambient light sensor, Proximity sensor
Scratch-resistant glass, Ambient light sensor, Proximity sensor
Oleophobic coating, Scratch-resistant glass, Ambient light sensor, Proximity sensor
Samsung Exynos 7 Octa 5433 (20 nm)
Qualcomm Snapdragon 805 APQ8084
Apple A8
Octa-core, 1900 MHz, ARM Cortex-A57 and ARM Cortex-A53, 64-bit
Quad-core, 2700 MHz, Krait 450
Dual-core, 1400 MHz, Cyclone ARMv8-A 2nd gen., 64-bit
Mali-T760 MP6
Adreno 420
PowerVR GX6450
32GB
32GB
128GB, not expandable
Android (6.0 Marshmallow, 5.1 Lollipop, 5.0 Lollipop, 4.4), Samsung TouchWiz UI
Android (5.1 Lollipop, 5.0 Lollipop, 4.4)
iOS (12.x, 11.x, 10.x, 9.x, 8.x)
Qualcomm Quick Charge 2.0
Qualcomm Quick Charge 2.0
16.0 days (384 hours)
the

average

is 29 days (688 h)
20.00 hours
the

average

is 0 h (0 min)
18.00 hours
the

average

is 0 h (0 min)
24.00 hours
the

average

is 0 h (0 min)
3G: 12 hours; LTE: 12 hours; Wi-Fi: 12 hours
82.00 hours
67.00 hours
80.00 hours
14.00 hours
12.00 hours
14.00 hours
Single camera
Single camera
Single camera
16 MP (OIS, Autofocus, BSI sensor)
16 MP (OIS, Autofocus, BSI sensor)
8 MP (Sapphire crystal lens cover, OIS, PDAF, BSI sensor)
Aperture size: F2.2; Focal length: 31 mm; Sensor size: 1/2.6"; Pixel size: 1.12 μm
Aperture size: F2.2; Focal length: 31 mm; Sensor size: 1/2.6"; Pixel size: 1.12 μm
Aperture size: F2.2; Focal length: 29 mm; Sensor size: 1/3"; Pixel size: 1.5 μm
3840x2160 (4K UHD) (30 fps), 1920x1080 (Full HD) (60 fps)
3840x2160 (4K UHD) (30 fps), 1920x1080 (Full HD) (30 fps)
1920x1080 (Full HD) (60 fps), 1280x720 (HD) (240 fps)
OIS, Continuous autofocus, Picture-taking during video recording, Video calling, Video sharing
OIS, HDR, Continuous autofocus, Picture-taking during video recording
OIS, Time-lapse video, Continuous autofocus, Picture-taking during video recording, Video calling, Video sharing
3.7 MP
3.7 MP
1.2 MP
2560x1440 (QHD) (30 fps)
2560x1440 (QHD)
1280x720 (HD)
6.04 x 3.09 x 0.33 inches (153.5 x 78.6 x 8.5 mm)
5.96 x 3.24 x 0.33 inches (151.3 x 82.4 x 8.3 mm)
6.22 x 3.06 x 0.28 inches (158.1 x 77.8 x 7.1 mm)
6.21 oz (176.0 g)
the

average

is 6 oz (171 g)
6.14 oz (174.0 g)
the

average

is 6 oz (171 g)
6.07 oz (172.0 g)
the

average

is 6 oz (171 g)
Back: Plastic; Frame: Aluminum
Back: Aluminum
Fingerprint (swipe)
Fingerprint (swipe)
Fingerprint (touch)
Notification light, Touch sensitive control keys
Touch sensitive control keys