Apple iPhone 5s vs 5c on launch weekend: flagship outsells plastic by a factor of three
16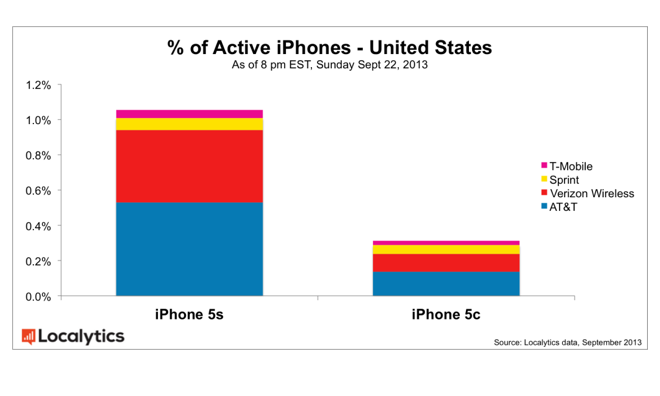 Research firm Localytics tracked data from 20 million unique iPhone IDs over the first weekend of availability for the new Apple crop, and it turned out that the flagship
iPhone 5s
is three times more popular than the cheaper
iPhone 5c
. This more or less jibes
the results of our own poll
put up before the two devices went on sale, where 80% of more than 3000 respondents said they'd get the 5s.
Together, the two fresh iPhone models are already representing 1.36% of all iPhones activated on AT&T, Verizon, Sprint and T-Mobile, with the flagship taking 1.05%, and the rest going to the iPhone 5c. AT&T, as the first exclusive iPhone carrier, still has the highest number of activations, followed by Verizon. Bernd Lerger, VP of marketing at Localytics, commented:
That means the iPhone 5s outshines the 5c by a factor of 3.4x, a clear indicator that early adopters are favoring the high-end 5s compared to the 5c. This makes sense since those who feel the need to buy a new device the very weekend it launches are most likely the power users who want the highest-end phone experience.
Looking at the numbers outside of the US, Localytics noted that the iPhone 5s is on average 3.7x more popular than the 5c, whereas that ratio in Japan, for example, jumped up to five times. As already pointed out, the launch weekend won't be a good indicator how well the colorful plastic iPhone will sell in the long run, when the first adopters have all gotten their fix, and given the record margin that Apple likely commands on the 5c, whatever it sells will pad Cupertino's coffers nicely.