Apple iPhone 5 comes with better 8-megapixel iSight camera
33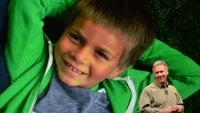 The
Apple iPhone 5
is all we think it'd be - larger screen, faster processor and LTE, but one thing we had little information about was the camera. Apple has just announced that it has kept the pixel count at 8-megapixels, but apart from that it's added tons of new features and improved low light performance and added better stabilization.
The new camera still has a five-element lens and is still backside illuminated, but the new things are that it's 25% smaller with dynamic low light mode, precision lens alignment and sapphire crystal. Sapphire is a great choice of an element because it's both hard and crystal clear.
With the better processor comes improved, faster image processing. Capture is 40% quicker and low light performance has improved.
"The ocean looks bluer, kids look happier... and the world is a more beautiful place,"
Apple marketing chief Phil Schiller joked.
As much as we like Apple's suave presentations, here is a quote that made us smile. "But perhaps the most amazing new feature in the iPhone 5 is called panorama," Schiller said on stage. Is it really? Panorama stitches images so you end up with 28-megapixel final images, and that's impressive. But the most amazing new feature? We'll let you decide in the comments below.
When it comes to video capture, you still have 1080p video, but with better video stability and face detection. You can snap still photos while recording video.
The front-facing camera also shoot HD video, and that's about it on the camera side of things. An incremental upgrade over the already very solid shooter in the iPhone 4S. How do you like what you see?
source: Apple