Apple iPhone 4S pre-orders sold out at carriers, delivery times reaching 4 weeks
38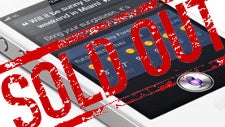 A couple of days ago Apple published first-day sales of the newly announced iPhone 4S and they surpassed all expectations breaking the previous record set by the iPhone 4. The
4S was pre-ordered by more than 1 million Americans
on day one, much more than the 600,000 pre-orders for the iPhone 4. The 4S pre-orders also blow Android phones out of the water as no single Android device comes even close to those numbers.
At the same time, though, Horace Dediu of Asymco has noticed that
pre-orders at all three US carriers
offering the 4S - Verizon, AT&T and Sprint - have sold out. At Sprint that's true for the 16GB model, which seems to have been completely sold out, while at AT&T delivery times at AT&T stand at 3 to 4 weeks. At Verizon the iPhone 4S is available but pre-orders will arrive only on October 28th. Staggering results, which only underline how strong Apple is before the company releases its third quarter (second FY trimester) results on Tuesday.