Apple iPhone 4 and the App Store are both listed in the 2011 Book of World Records
27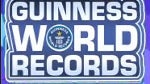 The Apple iPhone 4 and the App Store each received notice, becoming record-holders in the
2011 Book of World Records
for breaking records having to do with mobile gaming. For example, with analysts estimating that 1.5 million units of the iPhone 4 having been sold on launch day, the smartphone now holds the record for the "Fastest-Selling
Portable
Gaming System". The 1.5 million units sold blows away the competition. For example, the Sony PlayStation Portable sold 200,000 models on its 2005 launch date and the Nintendo DS rang up sales of 900,000 units during its first week of existence in November 2004.
The App Store also received notice as the "Most Popular Application Marketplace" and the "Largest Downloadable Video Game Store." The people behind the
2011 Book of World Records
released a statement that said that from the day the App Store opened its doors through September 2010, the online applications store had received over 6.5 billion downloads while hosting 259,740 apps. (In case you are interested, of that total, 61 of the apps are fart simulators). There were 37,362 games in the App Store as of last September, compared to the 1,400 available in Microsoft's Xbox Live Indie Arcade. The App Store also has the title of "Largest Launch Line-up of Any Gaming System" with over 500 available on the App Store's initial day of business.
Some developers also received recognition. Rovio's
Angry Birds
is now listed as the "Top Paid-For App Store Game in Most Countries." As of last October,
Angry Birds
was the top paid-for game in the App Store in a record 67 territories around the globe. Rovio's Peter Vesterbacka told the Global Mobile Internet Conference that total downloads of the game across all platforms had reached a whopping140 million.
Other games besides
Angry Birds
were up for awards. the "Fastest-Selling iPhone/iPod Strategy Game" with more than 300,000 paid downloads in its first nine days is PopCap's "
Plants vs. Zombies
" while "
Tap Tap Revenge
", with more than 15 million downloads, took the title of "Most Popular iPhone Game Series".
source:
GuinnessWorldRecords
via
AppleInsider
Recommended Stories