Apple iPad starting to lose market share in Q2 2012
49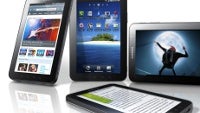 The Apple iPad basically founded the modern tablet market when it launched back in 2012, and now three years later it's still the dominant product with no rival to directly compete with it. But this has finally started to change slowly in the second quarter of 2012, according to a new survey by Frank N. Magid Associates, a research-consulting firm from New York.
The
survey asked 4,734 phone users
about whether and what tablet they use. Interestingly, it turned out that 50% of the people with a tablet have the iPad. Sounds good? Not if you compare it with previous estimates showing that figure at the sky-high 72%.
It seems that the main reason why the landscape in the
tablet industry is changing
is the new affordable tablet niche. The Amazon Kindle Fire was the one that managed to be most successful on Android, capturing a 22% piece of the pie.
But with the Google Nexus 7 just launched, heaps of new and affordable Android tablets on sale and the Microsoft Surface Windows 8-based slate upcoming, the iPad might start to lose market share quicker than you think. It is not very likely that iPad sales will suffer - more likely, it'd be just the market growing and more people getting a tablet.
"We expect to see the iPad as the leader, but with the Surface, Kindle Fire, and Nexus as three solid competitors with significant market share,"
Magid executive director Tom Godfrey said.
Interestingly, tablet usage among people surveyed surged from nothing to 34% in the two years since the launch of the iPad.
"What is interesting now is that many people, including a lot of publishers, think the tablet market is just the iPad," said Godfrey, "but these figures show people need to consider other platforms as well."


source:
LA Times