Apple iPad mini with Retina display gets the teardown treatment, scores low for repairability
9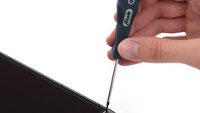 On Tuesday, the
Apple iPad mini with Retina display
was launched. Thanks to problems at Sharp regarding the production of the Retina display panel, Apple had to delay the release of the product. According to a report that came out last week, the
Japanese manufacturer is having problems with burn-in on the LCD screen
that it is producing for the slate.
Now that the Apple iPad mini with Retina display has been launched, the guys at iFixit have done their thing which means that they have taken the tablet apart, component by component. With a repairability score of 2 out of 10, the iPad mini with Retina display
matches the score achieved by the new full-sized Apple iPad Air
which means that it is in your best interest to be super careful with either model.
While tearing down the new iPad mini, iFixit jotted down some interesting notes about the device. First, it is worth noting that the improved resolution of the 7.9 inch screen is 2048 x 1536, which matches the resolution on the iPad Air. But because the iPad mini with Retina display sports a smaller 7.9 inch screen, the pixel density on the latter is a much more impressive 326ppi than the 264ppi seen on the iPad Air.
Speaking about the improved display, Apple had to buff up the battery in order to feed the power-hungry higher resolution screen. The cell found on the new slate is a 6471mAh capacity battery which is a jump over the battery found on last year's
Apple iPad mini
. Despite the more powerful cell, Apple lists the battery life for the iPad with Retina display at the same 10 hours that the battery on the OG model was rated for. This hints that the extra power on the new battery is indeed being used to power up the Retina display on the new model.
Also found inside the tablet is the same A7 SoC found inside the
Apple iPhone 5s
, right down to the same part number. While it is the Sharp produced Retina displays causing the issues for Apple, the panel found on the unit used by iFixit was manufactured by LG Display. Apple recently asked Samsung to start making displays for the iPad mini sequel. As far back as June, there was speculation that Apple would be relying on its rival
to deliver some of the glass for the tablet
.
source:
iFixit