Apple iPad Air 3 and iPad Mini 4 details surface in new report, the iPad Pro is in for company
13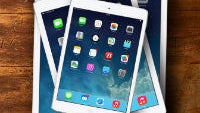 By now, it's no news that iPad sales are dwindling in a
shrinking global tablet market
. If rumors are to be believed, Apple will try to revitalize its tablet sales by launching a new iPad version this fall, the often rumored and allegedly leaked
12.9-inch iPad Pro/Plus
. However, while the new, productivity-centered iPad model has been often discussed in the tech blogosphere, information on the 2015 iPad Air and iPad Mini models was pretty scarce thus far.
This information drought just ended earlier today thanks to a report from Japan. Although we obviously can't take the details mentioned in the report as facts, they might just be able to paint a rough picture of what to expect from the revamped iPad Air and iPad Mini.
Back in October 2014, much to the dismay of some fans, Apple surprised the tech community by announcing the
iPad Mini 3
, the exact same tablet as the
iPad Mini 2 (with Retina)
, but with the addition of a TouchID fingerprint sensor. At the time, some interpreted Apple's minor Mini 3 upgrade as a hint that the company is backing out of the compact tablet market to make way for its newly-launched
phablet iPhone
form factor. However, according to this recent report, the iPad Mini 4 (or whatever Apple decides to call it) will be brought up to 2015 standards and will include specs such as a sharper 8MP primary camera, a 6.1mm-thin body, and an display that works better in direct sunlight.
The report also says that Apple will release an updated iPad Air 4 in time for the holiday shopping season, which contradicts a
previous report dating back a month ago
. Unfortunately, no other details are shared other than the fact that the iPad Air 4 will make use of an updated chipset, likely to be called the Apple A9.
In short, if this report turns out to be accurate, Apple will launch a major iPad Mini update, and only a minor iPad Air refresh, which is the exact opposite situation compared to last year.