Apple iPad Air 2 and iPad mini 3 leak out straight from the source
23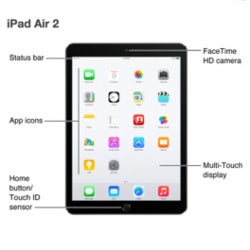 The usually secretive Apple just let slip its two big secrets for tomorrow's event: the iPad Air 2 and iPad mini 3. Screenshots of the iPad user guide for iOS 8.1 appeared on the iTunes Store, and interestingly enough, the iPad Air 2 and iPad mini 3 appeared prominently there.
These screen grabs confirm that the 2014 iPads will feature the Touch ID fingerprint sensor, and a new for the iPad Air 2 'Burst mode' (there's no mention whether the 'mini' will get the latter). Of course, it's also nice to see the official names 'iPad Air 2' and 'iPad mini 3' confirmed from an official Apple document.
For all else, we know from rumors that the new tablets will get a third, gold color option, and whispers suggest the iPad Air 2 could be thinner than before, even laying claim to the world's thinnest tablet position.
Even though we're not into conspiracy theories, we should note that this leak by otherwise extremely secretive Apple appears just as all eyes are on Google's new Nexus family and that does seem a bit suspicious.
What do you think? And how will tomorrow's event pan out? Tune in at 10am PT tomorrow for our coverage of Apple's iPad event.