Apple iPad 2 to feature three versions, one for each radio
3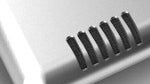 For the current tablet leader Apple it really is a no-brainer to make its iPad available on as many networks as possible. The second generation, or the so-called
iPad 2
, is rumored to have three versions, based on the wireless radios inside. There will be the cheap Wi-Fi only version, of course, but also Wi-Fi plus UMTS (for GSM networks, like AT&T or T-Mobile), or plus CDMA (for the likes of Verizon and Sprint), which could sweeten the deal with carrier subsidies.
The ratio of initial January shipments for the rumored 500 000 - 530 000 units, is said to be 3:4:3 (Wi-Fi:UMTS:CDMA), so obviously Apple is preparing for a slightly bigger splash on GSM networks. If this rumor holds water, we can't help but wonder how hard is it to put all wireless bands in one chipset, if Apple has to go with three separate versions. Maybe not hard, but just expensive, we guess we have to ask
Qualcomm
how much it is selling those combined chips for.
Couple the various wireless connectivity with the
expected svelter profile
, and additional anti-reflective and oleophobic (against finger smudges) coatings, plus an eventual wide-range speaker and cameras, and the Year of the Tablet 2011 might very well turn into the Year of the Apple Tablet. Unless those
4G slates
start picking up steam, but then again, they can only be used on early LTE networks like
Verizon's
, or eventually
Japan's DoCoMo
. Supply sources predict around 40 million shipments of the iPad 2 (or whatever it ends up being called) in 2011, which would put it at 65-75% of the global market for tablets. And that's with more than 80 tablets already in the works by all the other manufacturers, many of which will be showcased at
CES next week
.
via
Digitimes