Apple iPad 2 Unboxing & Hands-on
17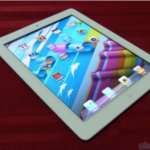 Precisely after it was
unveiled to the public not too long ago
, we only had to wait a short period of time before we found ourselves finally here at the launch of the highly anticipated
Apple iPad 2
. Setting the bar in terms of coming to market the fastest soon after it was officially announced, consumers all around have the opportunity starting
today
to purchase the follow up to last year's model that seemingly revolutionized the industry in many ways. Packing some upgraded hardware under the hood, it's naturally impressive to see all of the upgraded internals packaged into a
slimmer body
– while retaining the same
price points
as before.
Obviously, the first thing to initially catch our eyes is the ridiculously
razor thin profile
it beholds which is impressively
33 percent thinner
than its predecessor. At that level, it makes other recent tablets on the market look bloated by comparison, but more importantly, it's still
solidly built
all around thanks to the
premium choice of materials
that it's crafted out of. Furthermore, it's marginally
lighter
to hold in the hand, while retaining the same expected
10 hour battery life
from before. All in all, it might not be a design that's regarded as ground breaking, but it's nevertheless an evolutionary approach that refines upon the wonderful design qualities found with its predecessor.
Some of the new additions include a front-facing VGA camera for video chat, rear camera that shoots 720p video, and a powerful 1GHz dual-core Apple A5 processor – the latter of which chirps along at double the speed of the previous A4 chip, while not compromising on battery life. And despite using the same
9.7" IPS display with 1024 x 768 resolution
, we're nonetheless content with its radiant output and great viewing angles, though, some would argue that this should've received an upgrade.
Turning on the device, we're presented with the familiar iOS experience that keeps in mind responsiveness and simplicity to the utmost level. Thanks to the speedy processor in tow, navigating around the platform and launching apps are no problem for this tablet – albeit, the speed factor doesn't seem too different from the original in our opinion for right now. However, one particular app to catch our attention is the
Photo Booth app
found at the main homescreen that applies a myriad of fancy looking photo effects on an image you're attempting to shoot. Besides that, we're pretty much treated to the same assortment of apps that we're all too accustomed to using with any iOS device at this point.
Now that the tablet market is gaining momentum because of the sharp rise of activity seen with the Android camp, the iPad 2 so far has some advantages that will hopefully keep it at the top of the list. Naturally, its
steady price point
is probably what's going to keep it looking attractive to consumers, but we'll find out shortly whether or not it has the overall staying power to fend off the competition. Expect our in-depth review soon!