Apple iPad 2 Gaming Test
20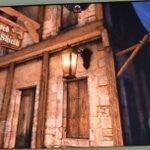 Already deemed as a venerable gaming machine in its own the regard, the iPad 2 will undoubtedly kick things up a notch, as it should, thanks to upgraded internals found under the hood. If 3D gaming is more your kind of thing, then the
1GHz dual-core Apple A5 processor
is an inviting evolutionary step forward that should bring along some graphically rich titles down the road once developers begin to take advantage of it. In the meantime though, we decided to check out the kind of graphics prowess that the iPad 2 has to offer – and more importantly, how it compares to its brethren.
Since there are no games out there yet that are developed specifically to run on Apple's blazing A5 dual-core processor, we just decided to go at it with Epic Citadel that utilizes the Unreal Engine 3. Sure it isn't necessarily an actual game, but it does a great job in providing us a surreal environment that produces some fantastic 3D looking visuals. As we started moving around, it's quickly evident that the game doesn't skip a beat as we fluidly traverse through the rich looking environment. From shadows to textures,
everything looks rather sharp
as it manages to submerse us with some
fluid movements
. Impressively, it's even able to keep a steady frame rate when things like smoke effects come into play.
Of course, we just had to pit it against the original iPad to compare and contrast their performance. And surprisingly enough, the iPad 2's dual-core A5 processor shines ever so brightly. In fact, we experienced just a little choppy movements when smoke effects came into view with the iPad – which didn't phase the iPad 2 one bit. Although this is just only a snippet of what the iPad 2 can truly produce, it's going to only get better from here on since developers will no doubt create visually stunning games that are catered to run with the A5 processor.