Apple hits Google where it hurts; says iOS 12 runs on 85% of devices
46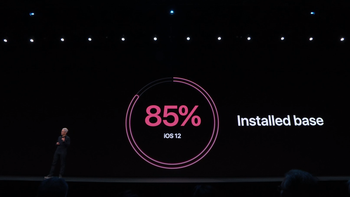 Apple's announcements at WWDC yesterday undoubtedly focused on the company's updated range of operating systems including
iOS 13
,
watchOS 6
, and the
new iPadOS
. However, the company did also point out the popularity of last year's iOS 12 update and, as is now customary, took the time to critique Android.
After reaching an adoption rate of 50%
in under one month
and then growing to 80%
by the end of February
, the Silicon Valley-based giant confirmed yesterday that iOS 12 can currently be found on a whopping 85% of iPhones, iPads, and iPods. For comparison, the previous iOS 11 release didn't reach an 85% adoption rate until early September, at which point it soon began to decline due to the release of iOS 12.

Making this adoption rate even more impressive is the fact that iOS 12 has already "been installed on more systems than any version of iOS ever." Previous releases such as iOS 9 and iOS 10 reached peak adoption rates of 88% and 87% respectively, but at the time Apple's install base was noticeably smaller, meaning that each percentage point accounted for fewer devices.

As CEO Tim Cook was keen to point out, Apple's latest numbers are in stark contrast to the latest offering from "those other guys." Google's newest release, Android 9 Pie, can be found on just 10% of devices, despite being released a month before iOS 12. Nevertheless, it should still be pointed out that the Android install base is significantly larger and there is a notably wider range of devices available to consumers from a long list of companies, making it harder to update them all.