Apple shares hit all time high on Buffet report; company moves closer to a one trillion dollar value
42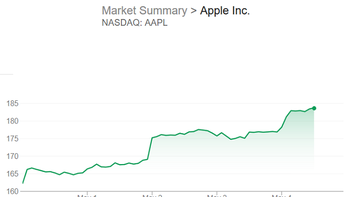 Thanks to an SEC filing indicating that
Warren Buffet's investment vehicle purchased 75 million shares of Apple
last quarter, the stock hit an all-time high today. The company, which
Wall Street was in a "full panic mode" over
, has soared 13% in a week (see the chart at the top of this story) and traded today as high as $184.25. The total value of the 240.3 million shares of Apple owned by Buffet rose today alone by $1.4 billion. Yikes! Consider that this rally came about simply because of the news that Buffet added to his holdings.
Earlier this week,
Apple reported its fiscal Q2 earnings
and that report kicked off this week's rally. While the number of iPhone units rung up came in a tad below the Wall Street consensus, service revenue and sales in China both were healthy, and CEO Tim Cook said that the
iPhone X
has been the company's top selling handset every week since its launch last November. Analysts spent the next day erasing previous forecasts while hiking their estimates of future iPhone sales. Buffet, at his firm's annual shareholders meeting today, said obsessing over iPhone X sales "totally misses the point" on the stock.
While Cook said that Apple is "thrilled" to have Buffet as an investor, some analysts think that the Oracle of Omaha will significantly add to his Apple holdings. The investor has a net worth currently valued at $82.9 billion, and Apple makes up 25% of his portfolio according to a Wall Street analyst.
"I don't think he's done. I think the numbers of the investment in Apple are going to go higher and maybe even significantly higher."-David Rolfe, CIO, Wedgewood Partners

"On a personal level, I've always greatly admired Warren and have always been grateful for his insight and advice."-Tim Cook, CEO, Apple
With the surge in Apple's shares, the company takes a huge step forward in
the battle to become the first publicly traded outfit to be valued at $1 trillion
. Yes, that little baby born on April 1st, 1976 is now valued at more than $931 billion. Amazon, which many thought could beat out Apple to be the first trillion dollar public company, currently is worth close to $765 billion.
source:
CNBC