Apple has sold 200 million iOS devices, and distributed 14 billion apps
15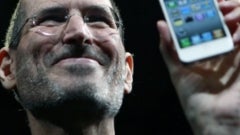 All hail the Apple juggernaut! At the WWDC (Worldwide Developers Conference) today,
Apple
announced some ridiculously impressive sales figures for their products. To date, they've sold 200 million iOS devices. And what's more, the relatively young
iPad
accounts for 25 million.
On the download end of things, Apple reported that they've distributed 14 billion
App Store
downloads, and 130 million downloads from the iBookstore. Those figures do include free apps, but that doesn't make it any less impressive. Developers have been paid $2.5 billion thus far.
iTunes, which obviously had a head start, has sold 15 billion songs. We suppose Apple should be thanking us, but we're grateful for something else: We're grateful that they chose to present these in the number of apps, devices, songs, etc. Because if we heard the cash value that we've paid to Apple over the years, it might make us nauseous.
source:
Boy Genius Report
Recommended Stories