Apple granted patent for headphone-speaker hybrid
19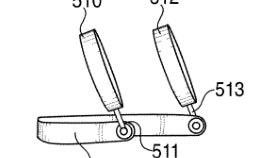 Hybrid headphones that can turn into speakers, depending on their settings, are nothing new as a concept. They've been around for a while, although they don't tend to enjoy the mainstream success manufacturers would like. This could change if a major trendsetter joins the race, though, and Apple might be looking to do just that.
The company was just granted a patent, describing
"Dual mode headphones and methods for constructing the same"
, which puts its own twist on the idea that has been floating around for years. Apple's patent describes the hybrid as having two modes -
"in-ear mode"
and
"speaker mode"
, with the switch between the two happening by either pushing a designated button, or relying on the device to detect when it's put in a certain position and switching between the two.
If you're thinking that such a contraption could potentially prove harmful to your ears if it accidently goes into speaker mode when it shouldn't, you're not alone. We had the same idea when we first came across this, but it appears that Apple is way ahead of us. The patent suggests that
"the headphones can include a safety mechanism by which the headphones can disable the speaker mode when the headphones are place on or in a user's ears."
The patent was filed all the way back in 2011, but it appears that it took some time for the USPTO to grant it to Apple. Of course, just because Apple finally has been granted such a patent, doesn't mean that such headphones will be produced any time soon, or at all. We'll just have to wait and see if Tim Cook and company will do something with this one.