Apple gets patent trolled, ordered to pay $532.9 million
59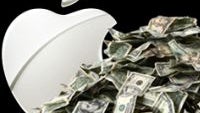 Smartflash LLC, a company from Tyler, Texas, has just won a patent trial against Apple, where jury ruled that Cupertinians owe $532.9 million to the small company. The patents, which Apple supposedly infringed upon, involve data storage, payment systems, and DRM, the main target for the case was, of course, iTunes.
Smartflash was initially seeking $852 million in damages, though, Apple argued that it's not infringing on any patents, and that if it was – their worth would be about $4.5 million. It further questioned why Smartflash took so long to bring up the issue, and added
Smartflash makes no products, has no employees, creates no jobs, has no U.S. presence, and is exploiting our patent system to seek royalties for technology Apple invented
Is Apple far from the truth? Well, Smartflash was founded in the 2000's by Partick Racz, and so far, its only business is licensing a number of patents, which have been issued between 2007 and 2012. Its address registration points to an office building just next to the courthouse where the trial is held. The company is also looking to sue Samsung and Google, as the latter is trying to have the trial transferred from the Texas court to California. Smartflash has sued Amazon Inc. just this past December, though, we are having trouble finding information on how that went.
So, back in the 2000s, as Mr. Racz was trying to commercialize his ideas, he offered the currently patented technologies to various execs, one of which is Apple's current Director of Security. Presumably, Racz's argument is that this is when his invention was passed along, without him being paid for it, and, aside from the sum in damages, he also claimed he deserves a royalty payment for each and every iPhone, iPad, iPod, or Mac, which is used to access iTunes.
Well, the jury didn't agree with all points, but ultimately found Smartflash's patent claim to be legitimate, and ordered Apple to pay $532.9 million in damages to the plaintiff. Now, Apple is most probably going to appeal, but this got us thinking - we're not really sure how that case held water, but we're considering on registering a few patents, just in case.
source:
Bloomberg
via
SlashGear