Apple gets patent on sapphire displays with an oleophobic coating
39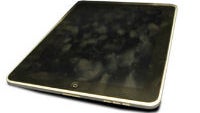 Based on everything that we've been hearing for quite a while now, Apple absolutely loves sapphire displays. And, based on what we know of the company and the products it has put out over the years, Apple hates that humans have oil in their hands. We're sure Apple and Co. would prefer to get a patent on bioengineering humans with no hand oils, but instead it has a patent on sapphire displays with an oleophobic coating.
The oleophobic coating on the display has been a staple of the iPhone since it first appeared on the 3Gs. So, it's not much of a surprise that Apple would want to keep that streak going. And, if Apple is going to stop using Gorilla Glass in favor of sapphire glass, it seems that the method of adding that coating will have to change. The theory is that because sapphire glass has a crystal structure, the coating can't bond in the same way.
Of course, Apple has sorted out how that coating can be applied, and with that discovery, filed for a patent on the process in September of last year. The patent was granted today by the USPTO, which would give Apple plenty of time to use sapphire glass in its next set of iPhones.