Apple files patent for magnetic Apple iPad stand
23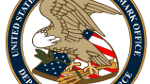 Various uses for the patented magnetic iPad stand
The USPTO has revealed a patent application made by Apple back in late August of 2011 detailing "
a way for securely attaching a tablet device to a stand where it can be removed and replaced with ease
." This is hardly hi-tech stuff, boys and girls. The patent is basically coming up with ways that the Apple iPad can take advantage of the strategically place magnets inside the case of the tablet since the
Apple iPad 2
, to easily attach and detach from a magnetic music stand or a tripod, or something in the interior of your car.
The magnets are inside the case of the tablet to help the Apple iPad Smart Case automatically close in the front without using a fastener. If there is a bit of interesting technology involved in the patent, it is the
magnetic shield
used to block the magnets inside the stand from say, wiping the information off of your credit cards. The shield also "
allows for significant increases in magnetic field strength when compared to similarly configured, unshielded products
."
One use of the magnetic stand in an automobile was described in the application. The stand could be mounted on a car's roof frame where it could support a tablet which would be hanging down in the area of the windshield where the rear-view mirror is currently located. The tablet wold be used to allow the driver to see in real-time what is going on behind him. Another use of the stand would have it connecting two tablets together, via a wired or wireless connection. The increased magnetic strength would allow one tablet to lie flat on a desk while the other would be connected via magnets like a display on a laptop computer. The tablet lying flat on the desk would function as the keyboard while the other slate would act as a display. Another suggestion diagrammed in the patent application shows two iPads magnetically connected side by side in portrait orientation to be used as an
e-reader
. You might recall that last year,
Apple was granted a patent for the animation of a turning page
.
source:
USPTO
via
TheRegister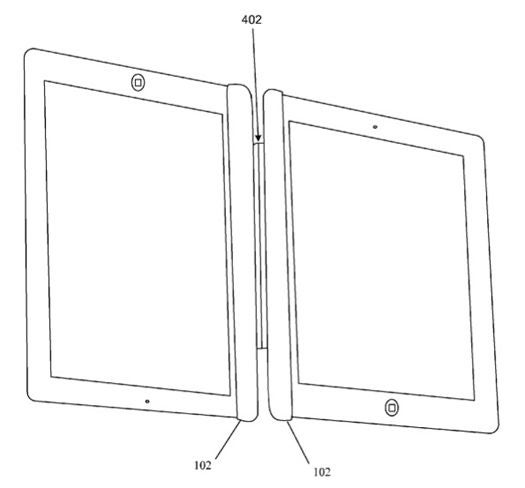 Making an e-reader from two $499 Apple iPads and magnets