Apple files patent for iPhone friendly optical stylus
99+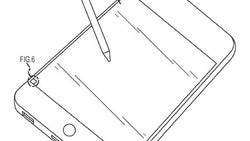 As surprising as it may seem,
Apple is apparently working on a stylus
, of all things; a stylus that is meant to work with the company's portable devices, such as the iPhone. How do we know? Well, Apple has filed a patent application for such an accessory, meaning that it might materialize one day making those
Draw Something
sessions a lot more enjoyable.
However, the stylus in question is not just a dumb, pointy stick. The patent describes it as an
"optical stylus"
, meaning that it might work in a way similar to how optical computer mice "see" the surface underneath them with the help of a tiny image sensor. Additionally, the to-be-patented accessory will detect how hard it is being pushed against the surface thanks to a pressure sensor. The data captured by the stylus will then be transmitted to a
"host device"
, presumably the
iPhone
or
iPad
it is paired with.
What makes the patent even more interesting is that seeing Apple considering stylus support for its handsets goes against the company's traditions. While unveiling the very first iPhone, Steve Jobs actually made fun of the accessory by rhetorically asking:
"Who wants a stylus?"
. However, thanks to the
Samsung Galaxy Note
, the stylus is now making a comeback, and if the trend catches on, it would make perfect sense for Apple to respond to the demand for such an accessory. On the other hand, we have seen plenty of cool Apple patents that have yet to end up in a consumer device, so the optical stylus might not hit the market anytime soon.
What do you guys think? Would you ever need a stylus for your iPhone or iPad, or your fingers will do just fine? Let us know what you think by dropping a comment.