Apple files a patent application for a paper bag; Team Coco introduces the Apple AirBag
36
Apple has filed a patent application for a new bag to carry out purchases made inside an Apple Store. No, this is NOT a joke. So what is different about this decidedly low-tech product that requires patent protection for Apple? Well, most paper bags are 40% to 50% recycled bleached sulfate. Apple's bag, according to the patent application, will be 60% recycled bleached sulfate. Apple says that this paper provides a "sophisticated fit and finish."
Apple has reinforced the bag to prevent it from ripping, and a collar placed around the opening provides additional strength. The handles are made of knitted paper fibers and fall below the top of the bag when not in use. The patent, which was filed back on March 7th, is called
Bag
.
This type of product is not usually (please forgive us) Apple's bag. As a result, the patent filing was a huge target for Conan O'Brien and his Team Coco. Click on the video at the top of the story to check out the introduction of the Apple AirBag. With a voice over that almost sounds just like Jony Ive's usual narration, we learn that Apple has used the most advanced folded paper technology in the creation of the AirBag.
Again, the patent is real. The video is not.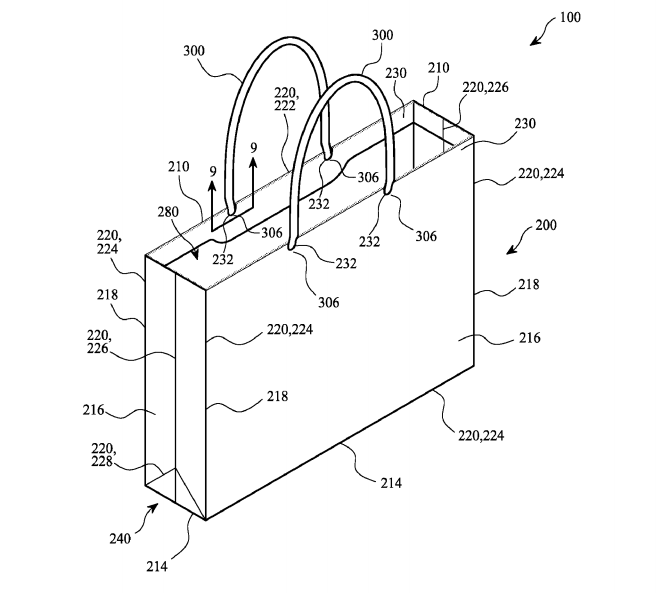 Apple has filed a patent application for a bag
source:
USPTO
,
TeamCoco