Apple fanalyst Gene Munster reiterates prediction of $200 off contract iPhone
17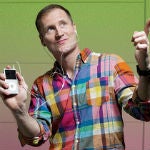 If this feels like deja vu, it's because it has happened before. Back on November 23rd,
Apple fanalyst Gene Munster
talked about his prediction that Apple would release a $200 off-contract iPhone in 2014, which was already a repetition of the same prediction that
Munster made back in August
. And today,
as if hoping for an association of truth-by-repetition
, Munster has reiterated that claim as part of a research note to investors. The only difference between the prediction last month and this one? Munster now makes it just a bit more vague by removing the "when" of the prediction.
The idea behind the prediction is a relatively interesting one: Apple could release a very inexpensive smartphone in order to try to jump on the market segment that the unbelievably inexpensive Nexus 4 is in, or for the iPhone to make a move in emerging markets where ultra-low cost mobile devices are the only way into the market.
Unfortunately,
there are a number of issues with the prediction
: First, Apple has never aimed at the ultra-low cost market ever before. Second, Apple already offers older model iPhones at reduced cost if you don't want to spring for the current model. Third, as we pointed out last time, in order to hit that $200 off-contract price, Apple would essentially just re-release the iPhone 3G. And last, Gene Munster is not the most reliable analyst. Not even close really. He is the same analyst who predicted Apple's stock price to top $1,000 by 2014, and as we've seen, Apple is getting farther from that goal every day.
We love lampooning Mr. Munster's claims, but we're done pushing traffic for him, so we're going to kindly not supply sources for this story. If you're that curious, the originals are just a search away.