Apple employees can buy the HomePod for half price over the next two months
19
According to a tweet from Bloomberg's Mark Gurman, for the next two months Apple employees can purchase the HomePod at a 50% discount. Apple's smart speaker will launch on February 9th, and can be pre-ordered now at a price of $349. But if you work for Apple, you'll be paying $174.50 for what amounts to a premium speaker combined with personal virtual assistant Siri.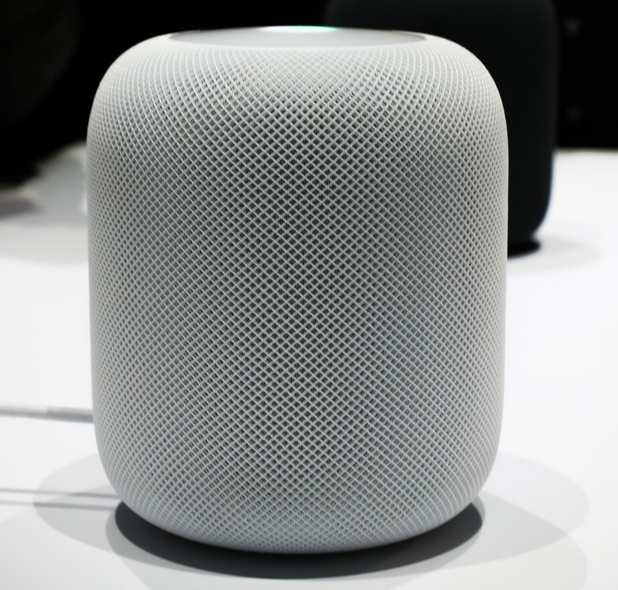 The Apple HomePod launches on February 9th
Apple is focusing on the audio experience by buffing up the speaker compared to the competition. The HomePod speaker features a custom-made woofer and 7 "beam-forming" tweeters, and the smart speaker is powered by the same Apple A8 chip used on the
Apple iPhone 6
and
Apple iPhone 6 Plus
.
Giving its employees a discount on a newly released product is not something new for Apple. Back when the Apple Watch launched in April 2015, employees received a discount when they purchased Apple's then-new smartwatch.
With Tim Cook praising the audio quality of the HomePod
, Apple could very well offer premium sound quality with its smart speaker. Where the device fails to live up to the competition is with Siri. Amazon's Alexa has become the industry's virtual assistant darling, and Google Assistant also gets high marks. Siri's dearth of third party integration could be the big anchor that weighs down the HomePod.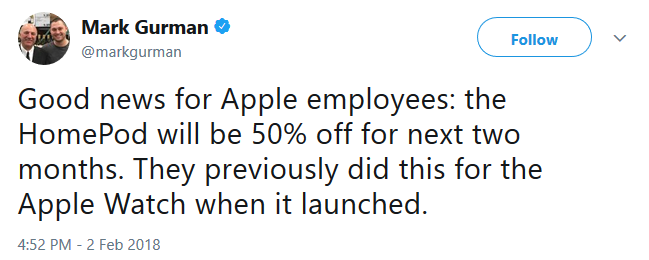 Tweet from Bloomberg's Mark Gurman reveals 50% Apple employee discount on the HomePod
source:
@markgurman