Apple doesn't return stolen iPhone back to original owner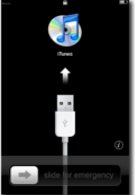 You'd think that registering your Apple iPhone's serial number as soon as its purchased means it's enough information to clearly say it's yours right? Well the case is not so for one particular former iPhone owner who recently received an eye opening shock when Apple called her up notifying that they are unable to return the stolen iPhone – it's scheduled to be replaced actually. This all started several weeks ago when the victim, Alisa, was robbed in a New York City subway. The police were called in and attempted to scour the area in hopes of potentially finding the robber. Fast forward a couple weeks later and Alisa is contacted by Apple about having her iPhone replaced, which was linked to her by the serial number, due to a software malfunction.
Now the pickle in all of this is that she can't get back her phone because she did not file a police report after the incident – this required her traveling to the precinct and going through books of pictures to attempt to ID the thief. Apple has told her that they must honor the warranty work, despite it being considered stolen, and that she does not have sufficient evidence to get her phone back. So apparently even if the serial number of the phone is registered to her; she is still fighting to get back her phone.
source:
The Consumerist
via
AppleInsider