Apple dealt another blow in Russia: third major carrier quits selling iPhone, signs with Samsung
68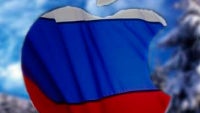 Make no mistake - Apple iPhones are popular in Russia and just as in any developing nation they are considered more than just a phone - they are a status symbol. That however does not mean that Russian carriers are ready to agree to Apple's draconian contracts and conditions.
Now, Vimplecom and its Beeline brand, the last major Russian carrier that sold the iPhone,
has cut its ties with Apple
and will not renew the contract allowing it to sell iPhones. The country's two biggest carriers MTS and Megafon have quit selling iPhones earlier precisely because of Apple's harsh conditions.
What hurts more is that
Beeline inked a deal to sell Samsung phones instead
as the Koreans offered more favorable terms.
Apple's conditions are harsh
Russia's big three carriers (MTS, Megafon and Beeline) signed contracts with Apple allowing them to sell the iPhone in 2008. Fast forward five years, and
none of them offers the iPhone anymore
.
There is only one retail outlet that has an official deal with Apple and that is the Svyaznoy chain of stores.
"This decision might be connected to the fact that Vimpelcom signed a contract with Samsung. Moreover, Apple is getting ready to open its own retail store chain in Russia and is not interested in having many third-party vendors. Apple's conditions are harsh, especially in the marketing department, and are not always beneficial for its partners. That's why Vimpelcom's decision looks logical,"
Dmitry Ryabinin, chief analyst for Russian Hi-Tech publication explains.
Apple's market share in Russia is falling slowly but steadily, and the company's piece of the market diminished from 9% in Q1 2012 to 8.4% in the same period this year.
Having all carriers abandon the iPhone is definitely a blow to the company, but that does not mean that Russians will have a hard time finding an iPhone. Apart from the Svyaznoy store where it is sold, Cupertino has officially launched its online Apple Store in Russia on June 26th.
source:
Hi-Tech
(translated)