Apple builds a giant table out of 120 iPads, shows off top 20,000 apps
5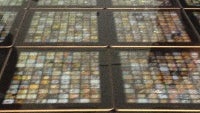 WWDC 2012, the latest edition of Apple's annual developers conference, sold out in mere hours and now we know why - Cupertino not only introduced some top notch products like the new MacBook Pro, and a huge update to iOS that now went up to iOS6, but also gave developers something to look at and touch at Moscone West.
In a construction almost like an art installation, Apple wired not one, two or a dozen iPads - it hooked up 120 iPads to a Mac Pro. Why? Simple, the app store is doing great and this is one brilliant illustration. Apple said it now has over 650,000 apps on iTunes, and the number keeps on growing.
And all of the 120 iPads were displaying the top 20,000 apps on the App Store and how they were growing sales almost in real time. Actually, every time someone downloads one of the apps it briefly flashes on one of the screens. And by almost real time we mean that all processing was happening in real time, but the results were delayed by 5 minutes.
The Mac Pro somehow coordinates the iPad show with all 120 high-res displays which alone is a remarkable achievement. You know, that's 377 million pixels after all.