Apple brings GarageBand to iPhone, iPod
7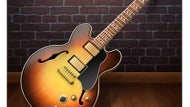 GarageBand for the iPad
was one of the biggest software additions coming with the second-gen Apple tablet and it was a dream come true for users wishing to experiment with music. GarageBand brought a couple of instruments, so you could play the guitar, piano or even drums on your tablet. Porting this to a smaller screen like the 3.5-inch one on the iPhone seemed hard, but Apple has done it. Now, the application is available on iTunes for $4.99, getting you rid of yet another obstacle to creating music on the go.
The
iPhone/iPod app
has all the features of the tablet GarageBand: multi-touch with Smart Instruments, but also TouchInstruments for those who want to fully control the music experience on their devices. Additionally, you can record voice with the mic on the iPhone and even plug-in a guitar and start recording. We've covered all of those features in our detailed
review of GarageBand for the iPad
.
"GarageBand on iPad has been a big hit and we think customers will love using it on their iPhone or iPod touch,"
Apple's senior VP of ​Marketing, Phil Schiller, said.
"The innovative Multi-Touch interface combined with Smart Instruments makes it easy to create great sounding music, even if you've never studied music or played an instrument before."
The application first launched on the Mac and only later got its tablet version, but it's a bit more than just a simple toy to play with. Companies have even outed their own accessories complimenting the experience and those include guitar picks and even drum sticks. Still, the 3.5-inch screen is a limitation, especially for those with deeper musical backgrounds and music creation experience.
On the iPhone, it's a 500MB download, so you'd better be in a Wi-Fi zone when installing. It operates in landscape mode and works with iPhone 3GS, iPod touch 3rd gen and later models.