GarageBand for iPad Review
2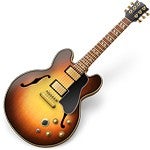 If you're a causal lover of music and aspire about making your own set of tunes, but you don't necessarily think you have the talent in composing fresh tracks from the heart, you'll be impressed with the kind of stuff that you can create with
GarageBand
for iOS. Available to both the original iPad and iPad 2, this $4.99 app might seem similar to its full featured Mac version, but it's developed specifically for touch. Naturally, you don't need to be a music prodigy to lay out your own set of tunes, but for those who are musically gifted, there's even a bevy of advanced and manual controls to perfectly give you control of all aspects in the music making process.
In terms of the
available instruments
with the app, you find the typical set you'd come to see out of any band that's trying to get their start at their own, or parents' garage. These include things like a piano, guitar, drum set, and bass. Obviously, those set of instruments are the required key ingredients to properly recipe your very first track, however, it still would've been nice to see other traditional wind and brass instruments thrown into the mix. Regardless, each of the available ones mimics their real life counterparts perfectly and we're amazed at the level of interactivity with each.
In fact, the
guitar
and bass allows you to either pluck each string separately, or if you prefer stringing a chord for something more harmonious, you'll also have that at your disposal. With the
piano
, it's laid out exactly like what you'd expect – with a range of different pianos to choose from to better suit the specific genre you're trying to attach yourself to. And finally, you've got the virtual acoustic
drum set
that tacks along things like a snare, kick, hi-hat, and cymbals. Depending on how hard you tap on each item in the drum set, it'll appropriately exhibit a specific tone, which goes to show the kind of interactivity seen with GarageBand. Tap it lightly, the response is blatantly low, while tapping on something hard with your finger, you'll be presented with stronger tones. Very nice indeed!
As we mentioned already, not everyone will know how to playfully interact with each instrument and compose something that sounds pleasant, and in that instance, the smart instruments come to the rescue. Without a doubt, it's hard to properly tap on multi items with the drum set without losing your focus, but that's where the smart drum set comes to mind as it provides you an automatic process of keeping a specific beat. The chart like interface allows you to drag your instruments in areas that will provide you combinatorial tones that will either be quiet, simple, loud, or complex. Simply, we're able to better get a continuous beat that sounds as if we masterfully did it ourselves.
Again, the same enjoyable process is found with the other smart instruments, and in our short time of actually using them, we're just floored by the wonderful tones we're able to string together. Likewise, we're able to record our instruments as we're playing with them – which are then saved to the recording studio. In the
recording studio
interface, it lays out all the instruments separately and shows the timeline of when and what they play. From here, we can do a variety of mixing to better produce a masterful cut by specifying, arranging, and trimming each particular instrument.
Amazingly, we're just impressed with the outcome with our short mix – especially when we classify ourselves as novice users. However, those who are naturally gifted in music will be able to better appreciate all the control and precision they'll be presented with in GarageBand. After finding ourselves content with the final track, we can share our creation by exporting it to our iTunes library or send it as an attachment with an email.
Come to think of it, the $4.99 pricing of GarageBand for iOS is worth every penny when you factor in the depth of creativity it has to offer. Moreover, you don't need to be a music legend in order to make some sort of slick track that sounds as if it was professionally made. In the end, GarageBand for iOS will undoubtedly keep iPad owners busy with its balanced mix of instruments, quick & easy cutting process, and ingenious functionality that will appease both to novice and advanced users.
GarageBand for iPad Video Review: