Apple announces iOS 5, a major release
99+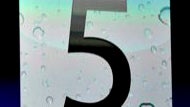 UPDATE

: links to streaming the entire WWDC 2011 keynote presentation, as well as the iOS 5 Preview video can be found here.
Apple ushered its mobile operating system iOS in a new era today, announcing its fifth iteration, which brings along major updates. Steve Jobs himself took the stage at the Moscone Center in San Fransisco in the beginning of the keynote, but it was Apple's Scott Forstall who announced the inclusion of more than 200 new features in iOS 5, which is supposed to
grace Apple's devices this fall
.
These include the iPhone 4, iPhone 3GS, iPod touch 3rd and 4th generation, as well as the iPad and iPad 2, plus whatever new phone
comes later this year
, of course.
After bragging about 425 000 applications in the App Store, $2.5 billion shelled out to developers, and 225 million credit card accounts linked to Apple's ecosystem, iOS 5 was unveiled, calling it a "
major release
", and ten new features were listed as most important.
First on the chopping block was the old intrusive way of doing notifications. We now have the so-called
Notification Center
, which appears when you swipe down from the top of the screen, much like on Android handsets. There you have your messages, calendar alerts, email and social networking updates and app updates, as well as stock and weather widgets on top, but no word if they will be updated live. These notifications will also jump on the lock screen, with one-swipe access directly to the app that created them.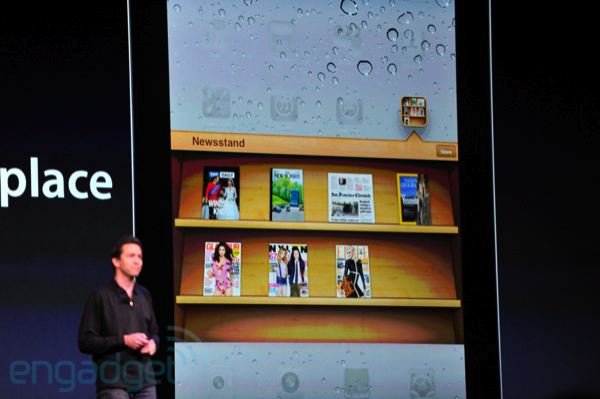 Newsstand
Next up was
Newsstand
, which lists all your magazines and newspapers like on a bookshelf. A lot of major publishers seem to be onboard, and there is to be a dedicated section of the App Store for subscription stuff, so if this doesn't get us into the new era of consuming old-school printed media, we don't know what will. Newsstand integrates and manages all your subscriptions, and allows you to purchase and download issues for offline viewing.
Feature number three was
deep Twitter integration
with one-time login in Settings, contacts integration, and with many apps, like Camera and Photos, taking advantage of the Twitter invasion in iOS 5. Safari and Maps are also Twitter-ified, and a new API is given to developers who want to integrate the single Twitter sing-in it in their own apps.
Mobile Safari, in its turn, gets new features too, like a button in the address bar called
Safari Reader
, which cleans out all the distractions while you are reading a story, sets the right font size, and leaves simply text and pictures - we certainly like the idea. Apple called Safari "
the best mobile browser out there
", and if by distractions it meant Flash, then no wonder why. A
Reading List
function is added, to save a story for reading later, which automagically appears as pending on all your iOS devices afterwards. What's more, the browser now supports
tabbed browsing
, which looks like, well, tabbed browsing - tap on a tab, and you are making its content active.
Next on the list of novelties in iOS 5 is the
Reminders
app which allows you to store multiple lists, and even assign a location to them, for example to remind you to call someone when you leave or arrive in a certain area. Reminders can sync between multiple devices, and also with your calendar.
There is a new way to access
Camera
in iOS 5, with the app icon straight on the lock screen taking you to the interface, and pressing volume up to take a photo as you would with a dedicated one-stage shutter key. You can also now hold down your finger in the camera interface to autofocus and highlight the exposure on a precise area in the frame, which should help with the under/over exposure troubles of the shooter. Pinch-to-zoom in the frame is possible now directly in the Camera app, and some simple on-device editing like crop, rotate, red-eye reduction and automatic enhancement enter the stage with iOS 5. In the Photos app you can also organize your pictures in albums straight on the device.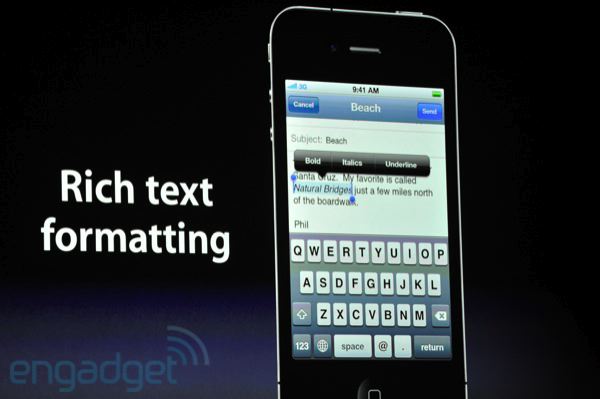 The
Mail app
has received an overhaul, too, with RTF, flagging of messages, draggable email addresses between address fields, and
search within the whole content of the message
. There is also a new formatting bar in Mail, with bold, italics, underline and indention controls. A
universal dictionary
has been built into iOS 5, for use across all applications.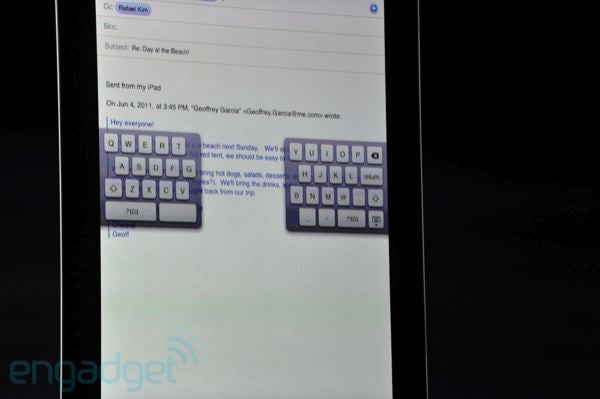 Split-up keyboard for easier thumb typing on a tablet
The
onscreen keyboard can now be split in two
, for easier thumb-typing on a tablet, for example, much like what Microsoft demonstrated the other day is to come with
Windows 8 on tablets
. Good, no more pecking with one finger on the iPad now. On a sidenote, the iPad 2 also gets
AirPlay Mirroring
- the ability to mirror its screen wirelessly to an HDTV via the Apple TV hockey puck.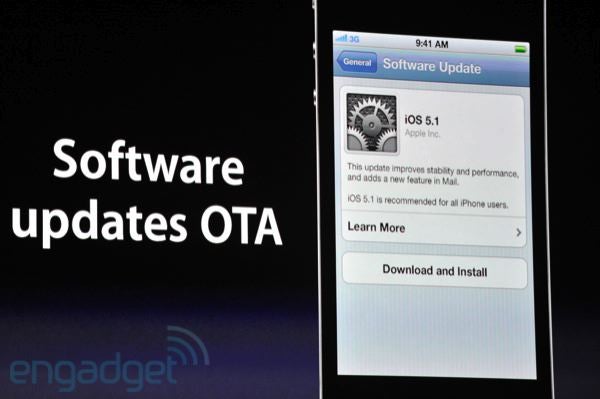 Gone are the
activation and syncing that required hooking your device to a computer,
it can now all be done wirelessly. Also, when you take it out of the box, it will activate over the Internet and that's that. And finally
OTA system app updates
are being introduced, which will only update what's changed in the new version, instead of reinstalling the whole thing.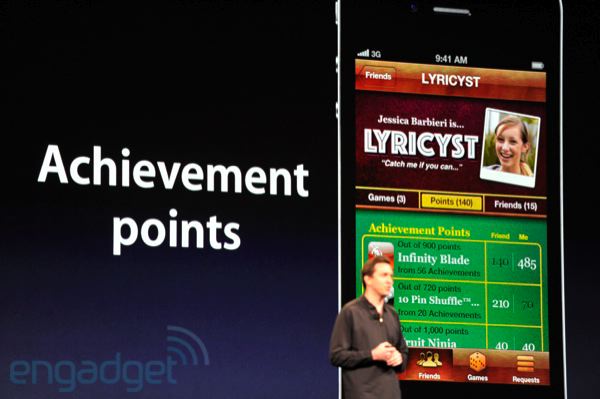 Game Center with profile photos
That
Game Center thing
? Yes, it finds its way into iOS 5 with 50 million users already, with the ability to add photos to your profile. Game Center is quite social - it allows you to share scores and see game recommendations from your friends. Games can also be purchased and downloaded directly from Game Center.
And, finally, the dubbed BBM-killer
iMessage
was announced, for all iOS users, regardless if they are on an iPad, iPod touch or an iPhone, over Wi-Fi or 3G. You can send text messages, contacts, pictures, videos, and it also supports group messaging. Delivery and read receipts come standard with iMessage, and you can also see when someone on the other side is typing, with the whole conversation being encrypted.
Those were the ten major feature updates announced today at Apple's WWDC 2011 event. Some of them were expected, others come as quite a surprise, and some of them were long overdue. What do you think, is this major iOS update all you've been waiting for?
source:
Apple
via
Engadget
Recommended Stories