Apple announces best iPhone, iPad apps and games of 2012
15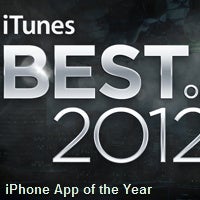 Apple has just announced its own selection for the best apps of the year for the iPad and iPhone, and we've got some surprising winners.
iPhone app of the year was probably the most disputed category and there Apple unexpectedly awarded it to
Action Movie FX
, a video editing app that enhancing your footage with special effects like missile attacks and falling rocks. Figure, an app for creating music was the runner up.
Rayman Jungle Run
grabbed the best iPhone game of the year award, and the platformer definitely deserves it - it also grabbed the top spot on our own ranking for
best mobile games in September
when it was released.
Letterpress, the vocabulary battle app came in second.
For iPad,
Paper
by 53 snatched the best app award, and this comes as no surprise. The waterpainting app is a piece of art itself, but it also allows you to really use your tablet for creating amazing drawings.
For games, it was
The Room
, an iPad game that also comes a bit as a surprise at least to us. It is a pretty decent puzzle game, with awesome graphics and animations, set in a mystery game environment, but not more than that.
While you may not agree with the winners (some of them seem strange to us as well), Apple has a much wider selection of applications and editor's pick that is definitely worth a second look, so head on to iTunes and see what the company that curates the whole iOS app business thinks is best.
source:
iTunes