Apple and Sharp might have tied the knot over displays for the next iPhones and iPads
4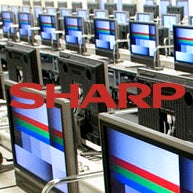 Based on trips to Japan for channel checks, Peter Misek from Jeffries believes that Apple has sealed the rumored deal with Sharp for procuring its
p-Si LCD screens based on the IGZO technology
. We've written before about the collaboration, with
Apple allegedly fronting Sharp $1 billion in equipment for its state-of-the-art Kameyama plant
to secure a steady supply of displays away from direct competitors like Samsung and LG.
Sharp is said to supply displays for the next iPad and iPhone, as well as the eventual TVs from Apple, with
the iPad 3 ones being produced as we speak
. The two companies are allegedly making their own version of the IGZO (indium, gallium, zinc) production method, which will lead to screens that are brighter, thinner and with lower power consumption than the current crop, while at the same time allowing for HD resolutions - probably what we'll see in the next iPhone. In fact, Misek's checks have shown that the HD screens that the new technology can supply are only 25% thicker than an OLED display, but brighter and with comparable power consumption, while at the same time much cheaper to produce.
Not that Apple has given up on OLEDs. The analyst also points out that Sharp and Apple are looking into the joint production of OLEDs, too, breaking the near-monopoly of Samsung, due to the
new technologies from GE and DuPont that allow to literally print OLED displays
on a film before they are put onto glass substrates. According to Peter Misek lines are already poised for trial runs in mid-2012, with 2013 scheduled for commercial production of small and mid-size OLED displays for Apple's iPhone and iPad line.
We'll keep an eye on Sharp's Kameyama plant news to gauge what will eventually go into the next iPhone.
source:
IBTimes
via
OLED-Info