Researchers develop cheap flexible OLEDs for mobile displays with the same efficiency as their rigid brethren
4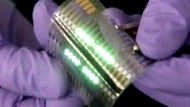 Researchers from the University of Toronto have managed to get rid of one of the downsides of flexible OLED displays based on plastic substrates, which so far were not as efficient as their glass-based brethren.
Not only are their new plastic OLEDs as efficient as their rigid counterparts, but they are also cheap to produce and very impact-resistant.
We don't know how these stack up against
Samsung's flexible OLED display technology
, which also uses plastic substrate instead of glass, but it surely is nice to see some competition injected in the field when the Canadian OLEDs start to get commercialized.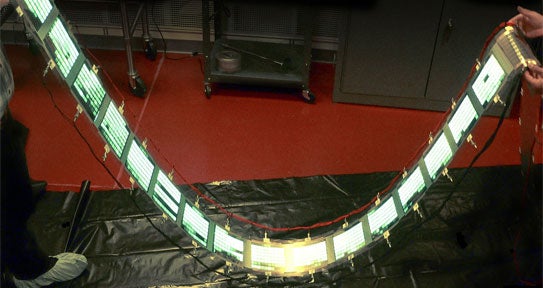 GE has devised a way to roll-print OLEDs
Speaking of entering production, these plastic OLEDs might one day start taking advantage of new production methods like
roll-printing
.
Both GE, whose method was four years in the making, and DuPont have demonstrated ways to print OLEDs, although the DuPont tech seems tailored more to the production of big screen TVs, rather than smartphone or tablet screens.
Watch an interview with Michael G. Helander, a PhD candidate from the team that created the new efficient flexible OLEDs with an affordable price point in the video below. He mentions that these could potentially go into roll-up TV displays in 5-10 years, but are likely to appear in mobile devices first. The team's challenge now is to scale the few square inches of sample plastic OLEDs from the lab into huge rolls that would allow printing them on a large scale.
Even if this doesn't immediately bring our dream bendable gadgets to fruition, but results in mobile displays with no glass to shatter when dropped, we'd say bring the plastic OLEDs on, lab coat heroes!