Apple and Comcast working on a deal for TV streaming service
2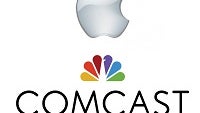 It looks as though Apple and Comcast are thinking about teaming up to deliver a streaming service that would use an Apple branded set-top box and give content priority over other web congestion.
What makes this potential deal significant is that it would be a new level of partnership between the technology industry and traditional content providers. It may also be an aid to stem what is a shrinking pay-TV subscriber base as more and more people choose the internet for their entertainment.
Apparently the crux of this deal will be for Apple to allow customers to stream live and on-demand TV programs as well as content stored in the cloud. Comcast, in turn, would prioritize traffic over that "last mile" for customers whose internet connection is carried by the cable provider.
The discussions are just at the beginning stages, though both parties stand to gain from collaboration. As is the case with a lot of local content providers, there are benefits for on-demand movies and TV for mobile phones and tablets too. Though there are several issues that need to be ironed out between the two companies.
First, Comcast would have to make significant improvements to its network infrastructure to deliver the type of quality that Apple has in mind (can you say 4K video?). Being that most of the customers would be Comcast's (and Apple's via Apple ID), there may be some resistance to the idea that Apple would like users of this prospective service to use their Apple ID.
Then there is the part of which company controls customer data. Customer data is a hot commodity, and both companies not only want to control it, but Comcast in particular wants to control the customer relationship. Couple those challenges with the likelihood that Apple will request that Comcast reduce subscription fees, that way the expenses that must be paid to the rights holders of the content to be provided.
It will be some months before we see anything firm develop from these discussions, but this is clearly something that might give Apple an edge versus Xbox or Roku.
source:
The Wall Street Journal