Apple and Aetna secretly meet to work out Apple Watch subsidies for millions of Aetna customers
9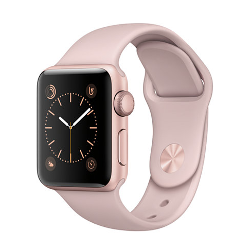 Apple and insurance company Aetna have been secretly getting together to discuss how the two companies might be able to deliver discounted
Apple Watch
units to 23 million customers belonging to the health insurer. While Aetna currently offers 50,000 employees a discount on the Apple Watch, the plan is to extend this to the company's customers who would use the fitness and health tracking features of the timepiece in order to get into better shape.
The meetings between Apple and Aetna took place last Thursday and Friday in Southern California. In addition to the executives from both companies that attended, chief medical information officers from various hospitals also showed up at the meeting.
Aetna is betting that by getting the Apple Watch onto the wrists of its customers, it helps them become healthier by promoting exercise and diet. This would lead to fewer sick days, illnesses, doctor visits, medication and surgeries that Aetna would have to pay for.
One area where Apple has been very active is in the field of diabetes. While diabetics spend huge amounts of money to monitor their blood sugar several times a day, Apple has been working on a way for the Apple Watch to provide continuous blood sugar readings. This alone could save Aetna a large enough amount of cash to make it worthwhile for the insurer to subsidize the Apple Watch for its customers.
Selling millions of Apple Watch units to Aetna customers could be a real shot in the arm for Apple. For the second quarter of 2017, Apple shipped 2.8 million Apple Watch timepieces, up from the 1.8 million units it shipped during Q1. Apple currently has a 13% market share,
good enough for third place in the global wearables marketplace
after Xiaomi (17.1%) and Fitbit (15.7%).
source:
CNBC