Apple accounted for 91% of smartphone profits last year
98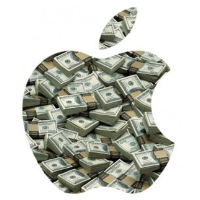 New graphs produced by
Fortune
show just how much Apple is dominating the smartphone industry in terms of profits. Sure, Samsung has the largest market share among smartphone manufacturers. According to Canaccord Genuity, the source of the data used in this story, Sammy had 23.9% of the global market last year. Apple, on the other hand, was second with a 17.2% slice of the pie.
But 91 cents out of every dollar of profit in the industry is going into Apple's pockets. Samsung grabbed 14% of the profits last year. Now, you're probably thinking "How can those two companies combine for 105% of profits?" That is because the other manufacturers are reporting losses. We also should note that many Chinese firms such as Huawei, Xiaomi, and ZTE do not even report profits.
As far as Apple is concerned, its share of smartphone profits might even increase in 2016. As we told you earlier today, UBS analyst Steve Milunovich forecasts that the 4-inch Apple iPhone 5se, expected to go on sale March 18th,
will add an addition $1.5 billion of net income to Apple's bottom line
over the phone's first 12 months in existence.
source: Fortune