Apple Watch: which band size is right for you (wrist size guide)
7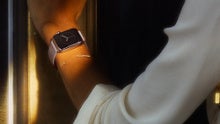 The Apple Watch comes in two sizes: a 38mm and a 42mm one, and it's only logical to assume that the bigger one is the one that will appeal to most men, while the small one will be a better fit for women, Apple indeed points out that such a divide (while in no way definitive) does exist for the two sexes.
The point is reinforced with the different size of bands for the two differently sized bodies.
Just like most clothes, the Apple Watch bands will come in three different sizes: S, M, and L.
Most bands come in three sizes: S, M, and L
It is the smaller size bands that will fit the smaller wrists of most women, while larger ones will be a better fit for men. If you're wondering which size band is right for you, Apple makes it really easy to tell: just measure your wrist and follow the official guidelines laid out below.




Looking at the band sizes, an interesting observation can be made: the modern buckle, for instance, is listed in feminine wrist sizes, meaning that Apple does not envision men wearing it. It's not impossible - men with smaller wrists might see it fit, but the general sentiment is that it's for women.




Most other bands are unisex: the leather loop, the classic buckle, the link bracelet, the sports band, and the Milanese loop. To get a better understanding of the sizes, take a look below.