Apple Watch sales close to initial estimates, big bucks made on wristband accessorizing
22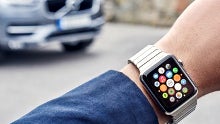 Extrapolating from purchasing receipts, research shop Slice Intelligence estimates that Apple has sold about 2.79 million of its Watch units by mid-June, which actually jibes with the rumored three million units
ordered to suppliers as an initial batch effort
, and can be attributed to Tim Cook's superior supply management chops.
How much did Apple make from these nearly 3 million watches sold? History remains mum on this one, but another research firm, IHS, estimates that the wristbands Apple sells alongside its timepiece, carry a huge margin. The basic Sports one, for instance, goes for $49, while its cost to make is only $2.05 for the 38-millimeter size.
Granted, the Watch comes with its own wristband, but people are oftentimes buying another one, most often the $149 Milanese loop version, so that they can accessorize for more upscale occasions, too. Thus, despite that the entry level $350 Sports watch is the one sold the most, the extra accessorizing that comes with it, may raise the end price tag significantly.