Apple Watch parody: Apple for "A Pleasantly Plump Little Electronic" Watch
20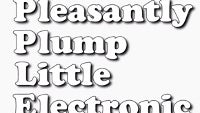 Apple lifted the cover off its long anticipated new category: the Apple Watch. The reaction was immediate: from love to hate, and everything in between, so much that it seems that everyone has an opinion about it and it's left no one without new thoughts and feelings.
Of course, Apple will still put the final touches on the Watch until it releases it in early 2015, and finalize things like battery life, as well as the overall performance, but for the most part, we know what the new wearable will be and function like.
From the point of view of someone who keeps up with technology, though, some of the features in the Apple Watch might not seem all that innovative. Add some snarky comments in and you've mixed a potentially viral Apple Watch parody: take a look below.