Apple Watch 2 rumored to launch in 2016, LG tipped as the sole display supplier
5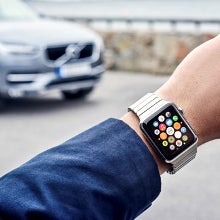 According to sources quoted by the South Korean media, LG will remain the sole P-OLED display supplier for the Apple Watch 2.
The same sources also give us a rough ballpark estimate of the Apple Watch 2 release date, revealing that the Apple Watch 2 will be launched at some point next year.
About a month ago, we covered a report that pointed out to LG as the
dominant player in the wearable display market
, with the company's products estimated to have made their way in 68 percent of all wearable devices shipped during the first quarter of 2015. The same sources also claimed that Samsung will join LG as a display supplier for the next-generation Apple Watch. This new report states that Apple considered other display manufacturers, but that LG will continue to reap the fruits of exclusivity.
Estimated Apple Watch production costs suggest that
LG earns about $20 for each watch
that Apple sells, although we don't know how much profit LG makes by providing Apple with P-OLED display panels for the Apple Watch. Plastic-OLED is a display technology that's crucial for wearables due to the fact that it can have thin bezels and can be easily manufactured in a variety of shapes.
At the moment, it's unclear whether Apple will maintain a traditional 12-month launch cycle for the Apple Watch line-up. While the report says that the Apple Watch 2 will launch in 2016, it does not mention a more specific timeframe.
An update to the hardware would certainly be appreciated by many iOS fans, but it turns out that the software might need more polishing first.
Apple's watchOS 2
will launch this fall with numerous improvements over the original version that powers the first-generation Apple wearable. Some of the biggest improvements are support for native apps and the ability to include information from third-party apps on the watch face.