Apple Stores to open 8am Friday and start doling out new iPads
13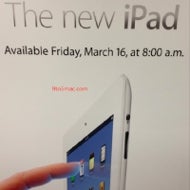 Apple just distributed an official press release that it will indeed open up shop early on Friday for the new iPad.
At 8am,
those souls who have been sitting in front of an Apple Store since the weekend
, braving heat, rain and
Samsung actors mockery
, will be rewarded with first dibs on the high-res Apple tablet. Reportedly those employees whose turn it is to work the extra hours, will be graced with a 10% wage raise for the troubled times.
The analysts from Canaccord Genuity are expecting record sales of the new iPad, upping their sales projection for the tablet to 65.6 million this year, and predict even more record-shuttering unit numbers moved for 2013, to the tune of 90 million.
Fairly enough, the analysts view not Google's Android tablets, but rather the upcoming Windows 8 slates as the wild card that can disrupt Apple's tablet dominance.
The new iPad goes on sale
8am Friday in the US
, Australia, Canada, France, Germany, Hong Kong, Japan, Singapore, Switzerland and the UK; along with Puerto Rico and the US Virgin Islands. The second wave is reserved for
March 23
, and includes Austria, Belgium, Bulgaria, Czech Republic, Denmark, Finland, Greece, Hungary, Iceland, Ireland, Italy, Liechtenstein, Luxembourg, Macau, Mexico, The Netherlands, New Zealand, Norway, Poland, Portugal, Romania, Slovakia, Slovenia, Spain and Sweden.