Apple-Samsung closing arguments are pushed back due to decision in Court of Appeals
19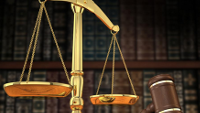 Had everything gone as scheduled in the Apple-Samsung patent trial II, "the thriller with the manilla folders," both sides would have wrapped up their closing statements on Monday, and turned the case over to the jury for deliberations. But as it turns out, a ruling in another courtroom has implications for the Apple-Samsung trial, which forced Judge Lucy Koh to add extra hours of testimony before the jury gets the case.
On Friday, the U.S. Court of Appeals for the Federal Circuit issued a 95 page ruling in a separate case between Apple and Motorola. The latter case does have implications for the Apple-Samsung trial since it covers Apple's '647 patent covering "quick links" or "data detectors. That is one of five patents that Apple claims that Samsung infringed on. The Appeals Court reversed the original ruling and reinstated Motorola's claim,
which was previously dismissed
when Judge Richard Posner said that neither Apple nor Motorola could prove that they were damaged by the actions of the other company.
The issue with the '647 patent that will require the additional testimony, is the definition of what an analyzer server is. The patent revolves around "quick links," which requires the use of the analyzer server. The sitting jury in the current Apple-Samsung case has not been given a definition of what such a server is. Judge Posner had defined it as "
a server routine separate from a client that receives data having structures from the client
." Apple had originally disagreed with that definition, but the federal appeals court has now sided with the judge. Motorola and Apple are now free to sue each other again over this patent.
Each side on Monday, will call an expert witness to define what an analyzer server is. The two experts are Carnegie Mellon professor Todd Mowry and University of North Carolina professor Kevin Jeffay. This could push back closing arguments until Tuesday.
Apple is seeking more than $2 billion from Samsung for allegedly infringing on five patents. Samsung has filed a cross-claim, accusing Apple of infringing on a pair of Samsung patents, and is seeking approximately $6 million.
source:
CAFC