Apple, Samsung CEO-level talks fail to produce any agreements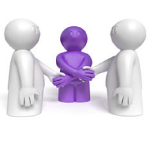 When Judge Lucy Koh of the United States District Court for the Northern District of California
ordered that Samsung and Apple sit down to negotiate a settlement of their patent war
, she might have held some hope that getting the CEO's of both firms together
would result in some give and take
. Unfortunately, that wasn't the case. An unnamed Samsung executive told the
Korea Times
that during the talks, both sides held firm to their arguments. Apple says that Korean based Samsung copied its designs while Samsung feels that Apple should license its wireless patents.
made no mention of further talks
.
What happens now?
It's back to court
. On June 7th, the court will hear Apple's request for a preliminary injunction against the Samsung Galaxy Tab 10.1. If both sides can't reach an agreement on the patent issues, a trial will start June 27th . Ironically, Apple CEO Cook has said that he hates litigation. Samsung's mobile chief J.K. Shin, who accompanied Gee-Sung to the talks, had told reporters Sunday at Gimpo Inmternational Airoport that Apple's claims were "preposterous". And while Samsung had previously said that it was not interested in cross-licensing deals with Apple,
Shin did bring it up as one solution to the legal mess
that both companies find themselves in.
Frankly, we would like to see both Samsung and Apple go in front of Judge Judy. That would probably solve the whole patent issue in 15 minutes.
source:
KoreaTimes,
via
FOSSPatents