Apple Pencil 2 gets the lead out this spring?
19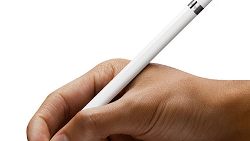 A sequel to the Apple Pencil is coming this spring, according to a report published on Wednesday. The Apple Pencil 2 will have some new features including the ability to magnetically stick to an iPad. It also will sport some type of clip, like the kind seen on a regular pen or pencil, allowing the device to be attached to a pocket. The new Apple Pencil 2 should be available at the same time the new iPad Pro models are released.
The new iPad Pro models could feature a 10.5-inch version (up from the 9.7-inch model) and a variant wearing a 12.9-inch screen. They
both will be powered by the A10X chipset
. The pencils will be used for writing and for drawing. They are expected to feature sensors that monitor the angle that is used when writing, and how hard the pencil is being pressed against the glass. These determine things like how thick or thin the line being drawn comes out on the iPad Pro's display. The sensors will also give the Apple Pencil 2 many more capabilities than your typical stylus.
We would expect that the Apple Pencil 2 will be priced at $99, which is the cost of the first generation tool. At the same time, we should see the original model get a little price cut. Last year, there was talk about the next version of the Apple Pencil
coming with an eraser (a digital one, of course) and interchangeable tips
.
via
AppleInsider