Apple Pay launches in Australia; mobile payment service is now in four countries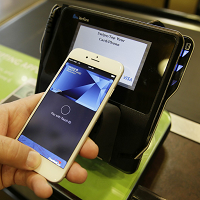 A few weeks ago, we told you that Tim Cook hinted that
Apple Pay would soon launch in Canada and Australia
. On Tuesday,
Apple Pay launched in Canada
, and on Thursday the mobile payment service came to Australia. The latter becomes the fourth market to offer the service after the U.S., U.K., and Canada. According to Tim Cook,
we should see the service launch soon in Ireland
. Unlike other countries where multiple credit cards can work with Apple Pay, in Australia the feature is compatible only with American Express. That means that you have to be an AMEX member to use Apple Pay in the land down under.
According to a report issued by the Australian Financial Report, Apple might have a difficult time getting other banks to come on board. That's because these financial institutions are not thrilled with the idea of giving Apple its small cut of each transaction paid for with Apple Pay. At least Apple was able to get AMEX to sign off in Australia. In China, a country that has become an important market for Apple, none of the banks will agree to
give the tech titan a percentage of each sale
.
One disadvantage to only having support from American Express is that it is accepted by a smaller number of retailers than VISA. Apple Pay might have to prove itself before other Australian banks and credit card companies feel that it is worth it to give Apple its small percentage in exchange for Apple Pay support.
source:
TechRadar