Apple: OLED tech is to blame for the iPhone X display looking blueish when tilted
71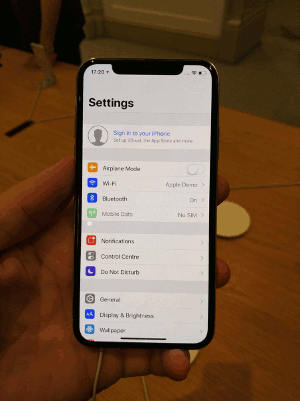 I'm blue da ba dee da ba daa
If you got the
iPhone X
delivered over the last few days, or held it in your hands in an Apple Store, you might have noticed that its display is not immune to a cold color shift when tilted, both at the top-down, or the side axis, as all OLED displays do to different extents. Granted, the shift is not as pronounced as some AMOLEDs of yesteryear we've seen, but still the white becomes increasingly blueish with an increased angle.
Well, that's apparently the inevitable side effect of having an OLED display, as Apple warns in its
support section
titled "
About the Super Retina display on your iPhone X
".
There, while gushing about the iPhone X's
Dolby Vision
HDR display coverage, almost infinite contrast, and high brightness, Apple slips a few warnings about the inevitable downsides of having an OLED panel. "
If you look at an OLED display off-angle, you might notice slight shifts in color and hue. This is a characteristic of OLED and is normal behavior
," says Apple. Indeed, as you can see in the GIF image on the right, the screen turns slightly blue at an angle, and it is visible even with the light reflections from the Apple Store chandeliers.
There you have it, straight from Apple's mouth - OLEDs are still not up to par with the orthodox LCD screens in certain areas, yet they excel in many other, arguably more important characteristics like contrast ratio, malleability and cinematic color gamut presentation.
Recommended Stories